When it comes to helping the public access publications and low price deltasone data, digital technology has been revolutionary. But what about beaches—can digital tools help make them openly accessible? All California's beaches, below the mean high tide line, are "public." Yet in practice, public access is thwarted with threatening signs and official-looking orange cones, and even obscured with fake garages. Along twenty miles of Malibu coast, there are only 17 access ways—most hidden.
To help the public find and enjoy these beaches, writer and environmental historian Jenny Price has produced an engaging mobile app. The app provides legal information about our right to enjoy this land (on wet sand or dry public easements), directions, photos of access points, tide data, and tips of what to do if challenged (make it a "teachable moment" or call the challenger's bluff). Even for those of us far from Malibu, the app is a heartening example of how individuals can use digital tools to improve public access—not only to information, but also to de jure public natural areas.
Ant Spider Bee co-editor Kimberly Coulter spoke with Jenny Price about her app.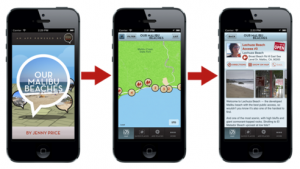 ASB: Our Malibu Beaches is the first app you produced. Where did you get the idea to use a smartphone app to help people find these beaches?
JP: Not my idea! The credit goes to my partners Ben and John Adair at Escape Apps. I had been working on this issue since the early 2000s–as a writer, and also with my public art collective the LA Urban Rangers–and Ben asked me if I'd like to turn an online guide I'd written into an iPhone app for their Know What series. I hate cell phones–just to be honest–and yet it sounded like a great way to continue to intervene in this issue.
ASB: To crowdfund the app, you mobilized the support of hundreds of individuals, raising more than $32,000 though Kickstarter. Aside from the party invitation and beach towels, what do you think motivated them to participate?
JP: Yes, we used Kickstarter to raise the funds for the Android version, and to be able to offer the app free of charge–and people contributed from all over the country. The beach in general, I think, just really galvanizes very strong feelings about public access. And the Malibu beach access battles just really symbolize the privatization of pubic spaces by affluent Americans–'cause Malibu is *so* affluent, and so celebrity-packed, and has so often been *so* horrible and devious about blocking public access. Though never underestimate the power of a nice beach towel.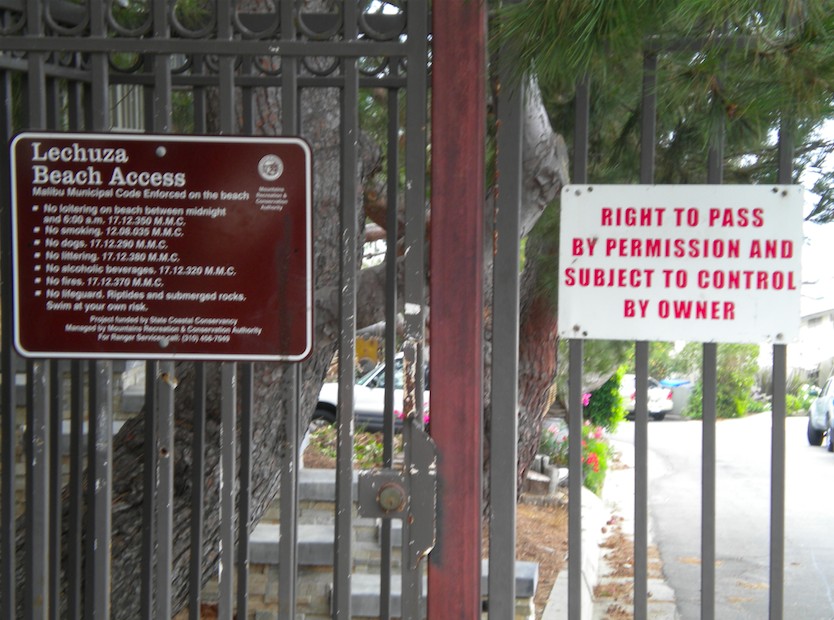 ASB: When working with the developer on the app's design, what compromises did you make?
JP: Well, the app is one in a series, and fitting all the info I wanted to include into a set format presented some challenges–e.g. we couldn't customize icons as much as I wanted to–though ultimately we figured out how to jam it all in there. I wish my picture wasn't on every page…
ASB: I imagine developing this content meant not only writing, but also research, consultations with the relevant organizinations, fundraising, and publicity. What was the most challenging part?
JP: It was all pretty challenging (and fun)–oodles of research, giving the writing a voice (not just the standard "yay with exclamation points!!" social media voice), doing the Kickstarter and buy cialis super active handling the media storm–but I think the most nervewracking part was just to try to get it all *right,* 'cause Malibu beachfront homeowners are a rabidly litigious bunch, and we don't want to waste our time hanging out with their lawyers. Yay!!!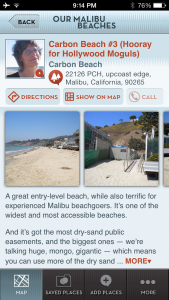 ASB: How would you describe the app's impact?
JP: As I said, I'm hardly a mobile phone fan overall–but I have to say that the app has far exceeded my expectations about what it could do. To find and use a public beach in Malibu can require a vast trove of byzantine information, and–lo and behold–this is a technology with which you can cram a ton of byzantine information into a pretty little hand-held portable object.
The app is now hard at work in the world, I think, at three levels. First, people are using the app to enjoy their beaches. We have over 28,000 downloads, and we know folks are using it. Second, it's generated PR and has served as an advocacy tool: for example, the LA Times ran an editorial on the importance of finally opening up these beaches; public agencies and nonprofits have used it to lobby state legislators; and state legislators and commissioners have contacted the state Coastal Commission to ask for tours of the beaches to see the fake garage doors, fake driveways, illegal signs, etc etc etc for themselves.
And finally, in the long term, the best way to make these public beaches truly public is to finally put the public on them–which, we hope, will change everyone's perceptions about who owns these lands. For so long, people have thought of the developed beaches–just take a look at the City of Malibu's website!–as private beaches that the public can use. Why not public beaches with adjacent private sands? It's difficult to see beaches as public when the public is basically MIA.
ASB: Where public institutions had been stymied, your personal initiative empowers the public to enjoy their legal right to these beaches. How do you see apps' potential as tools for telling environmental stories or inspiring people to action?
JP: Yes, though huge kudos to several state agencies–the Coastal Commission, Mountains Recreation and Conservation Authority, and Coastal Conservancy–that work like tigers to implement and enforce the public access laws. And for our app, the Coastal Commission was an essential partner–and did a mountain of work to get us all the info, to fact-check, to do any PR they could.
I think apps of course do have the power to reach an unusually wide range of people–so I've been super pleased with its ability to actually enact the story I've long been trying to tell about who owns these lands, and about the importance of public spaces generally.
Though I think you still have to think really, really hard about audience, voice, writing, how much you want or need to control the info, etc. e.g. I think the common assumption is that you need to have a user comments section in the app itself–but that would quickly become an egregious, horrible cesspool in this particular case. You can see that in the comments on the media coverage. Oooowww. User-generated content is a truly bad idea here–for such a contentious issue, and for one where the facts have to be 100% accurate. But the general point is that writing a useful app takes just as much thought and care as writing anything else that really works.
And shout-outs to just a handful of digital projects that I particularly like and buy cialis generic pharmacy online I think just put these technologies to fantastic use– Invisible 5, Indeterminate Hikes, New Public Sites, POPOS. And my new collective Project 51 is about to go live with our Play the LA River project, which I hope will be worthy of this list.
ASB: Tell us about your next projects, including your book, Stop Saving the Planet, Already! Will it have a digital companion?
JP: Oh, interesting question! I have no idea! Maybe… and maybe some tours, a treasure hunt, a film on 50 easy ways to stop saving the frickin' planet. I don't know, but something… I'd like to try some other storytelling formats….
All photos courtesy of Jenny Price & Escape Apps.